LeBooster Bangkok - Business Center & Services
Business Center
Having a local office in Bangkok
The FTCC proposes offices and meeting rooms in Bangkok business district to its members. Either for a 3-hour meeting or for a year, we are at your service.
Why should you consider the FTCC Business Center for your new office?
"Turnkey" solutions for office rental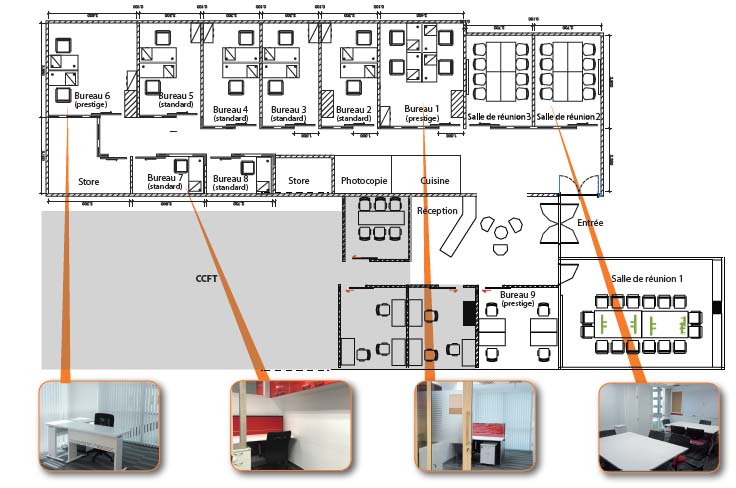 Located in the heart of Bangkok in the diplomatic area, at the corner of Wireless and Sarasin Road, the FTCC Business Center
is next to Lumpini Park and can be easily accessed via MRT (Lumpini Station) and BTS (Chidlom or Ploenchit Station). It is just
a few steps away from The Alliance Française (750 meters).
The new business center is divided into 9 closed offices and fully equipped. Its advantages reside in sitting in the French environment with an affordable price - no hidden fees.
Office/Desk

Equipements

Services

New office furniture

Integrated photocopy
machine, scanner and
printer

Permanent receptionist
during office hours to welcome
guests, reply to phone calls
and handle all mailings

Telephone line
with extension

Pantry equipped with
refrigerator, microwave,
coffee machine,
electric thermo pot

Daily newspapers and
magazines at disposal

Internet & WIFI

Water, coffee and tea
at disposal

All charges included
(air conditioning, electricity,
cleaning, security and
insurance)

Meeting rooms available
with prior reservation
Proposed Services
We propose a made-to-order service, ranging from office rental, staff hosting or even simply a daily rental of meeting room.
Office:
This option is suitable for FTCC members looking for an office rental in the heart of Bangkok. Being at the FTCC Business Center assures that you will be the first to know what is going on in the French business community and have a total support in case of problems.
The FTCC can facilitate administrative processes such as the address for company registration, work permit or visa.
Staff Hosting:
As an incubator for French SMEs, the FTCC also offers a "staff hosting" service to FTCC members who, before setting up a
company in Thailand, would like to evaluate the potential of the Thai market by having one person working on a project in
Thailand with a one-year fixed-term contract. This person will then be integrated as a FTCC employee in the payroll. If the
first year reveals to be fruitful, the company will therefore set up a company and become a tenant for the office rental.
Temporary office or meeting room:
3 meeting rooms, of which 1 big room with LCD projector and 2 small rooms, are at disposal of all tenants (free of charge with prior reservation). It can be rented on a half-day or full day basis for a businessman travelling to Thailand.
As a part of the global network of French Chamber of Commerce and Industry Abroad (CCIFI) of which 21 offices in Asia-Oceanie, the leasees of CCIFI Business Center in Asia can benefit from the use of meeting rooms or temporary office in Thailand free of charge. Please contact us for further information.
They entrust us with their presence!