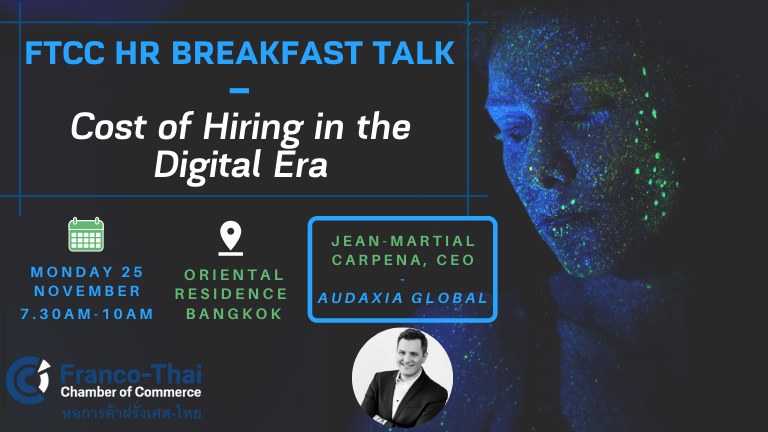 Organizations throughout all sectors are transforming to adapt to the Digital Era. In particular, fast-moving, important changes are impacting the traditional way Organizations are engaging with talents and workforce. Technology is rapidly transforming engagement and talent management processes, bringing disruption to Human Resources professionals. New behaviors are required to respond to this Digital agenda and to design HR overall processes that are generating profits for the business and achieving greater cost- effectiveness. While each Organization evolves in a different ecosystem, implementing appropriate Digital tools and techniques within a larger framework of Digital strategies will improve productivity and induce a massive impact on the hiring process therefore lowering its cost.
This workshop will help you to understand how HR professionals can respond to the Digital agenda and develop effective digital hiring strategies. For exemple understand how to leverage disruption to move from a hiring cost centre to a profit centre, to leverage cloud-based or software technologies to create business value. Those tools and techniques will uncover ways to break down some of the biggest hiring hurdles – from reducing time-to-hire to increasing the quality of hires – to help increase productivity and manage efficiency.
While Organizations need to transform to stay competitive in a volatile, uncertain, complex, and ambiguous world, this workshop will also attempt to provide a "people-based" approach, putting values and ethics at the center of the hiring process in the Digital Era.
Speaker BIO: Jean-Martial Carpena, CEO - Audaxia Global
Manpower Contracting and Project Human Resources Specialist
General Management, Strategic Partnerships,
Commercial Management & Business Development,
Projects Development and Project Management,
Senior Management professional having 16 years of extensive experience in the field of Project Human Resource Management , Manpower Contracting and Staffing Services for the Oil & Gas and Power Generation sectors . "Hands on " expertise combined with solid experience in the setup , implementation , monitoring and management of organizations across South East Asia and Middle East.
During his past tenures , Jean -Martial has successfully managed projects and organizations in multidisciplinary and multicultural environment such as Thailand , Myanmar , Singapore , UAE , Saudi Arabia and Yemen . During his career , Jean - Martial has served major clients such as Total E&P, Saudi Aramco , PTTEP , Petronas , Ophir Energy, Woodside Energy , Daewoo E&P (POSCO E&P), Chevron , TechnipFMC, Alstom (GE Power), EDF, Siemens Power Systems.
Having effectively developed a dense experience in supporting several multimillion USD projects and in achieving expected objectives , Jean -Martial has been certified Project Management Professional (PMP ®) in October 2018 under the Project Management Institute standards.
AREAS OF EXPERTISE
Oil & Gas Upstream onshore, offshore / Power Generation (Conventional) Project Management / Strategic HR / Recruitment & Outsourcing Business Development / Key Account Management / Negotiations
P&L Management / Meeting KPIs / Maximizing profits

2002-2004 MASTER IN MANAGEMENT – Business Engineering and International Negotiation - Institut Supérieur de Gestion (ISG - Paris / France) – CMS 2004
1998-2002 MASTER'S DEGREE IN BUSINESS LAW – Corporate & Business Law, Tax and Finance - Faculty of Law – Malakoff – Paris University V (France)

PMP® since October 2018 - #2268076

SPE member since 2012 #4800478 / ASME member since 2014 #100725968
Schedule
Monday 25 November 2019

| | |
| --- | --- |
| 07:30 - 08:00 | Registration |
| 08:00 - 10:00 | Session Starts |
| 10:00 - 10:30 | Questions and Answers |