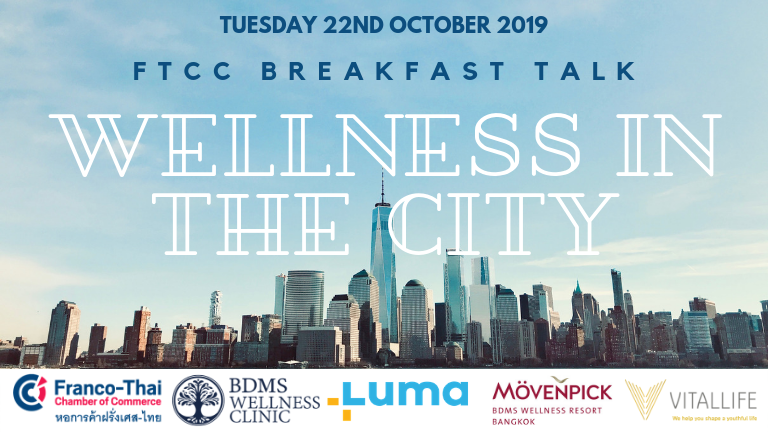 Event Description:
FTCC, together with Luma, Vitallife and BDMS Wellness Center are organizing a blow minded breakfast talk about healthcare. Nowadays, we understand better the importance of a good lifestyle, as it not only brings us a good health, but also help us to prevent diseases. From the role of nutrition, to exercising, through knowing and being aware of the potential diseases, there are plenty of ways to improve and secure your healthy life.
This breakfast talk will be held by a tremendous group of various experts in health, wellness and lifestyle matters. They will provide all the participants insightful and useful contents, essential keys for a successful work life balance for whom that need to be in the forefront of urban business development.
To achieve the optimal level of decision and management we need to balance both our energy and mindfulness together and this can be achieved by changing our everyday routine into a healthy and vitality one.

Breakfast Buffet Included!
The 3 panels talk you can enjoy:
- PreventingDiseases: The importance of "disease awareness and knowledge", Place of medical check-up in wellness management, and the essentials of medical insurance. – by Dr. Gerard Lalande, LUMA
- Integrative Sports Medicine:Prevention And Treatment For A Healthy Active Lifestyle by Dr. Alisara Amy Arirachakara.
- Exercising: How exercising helps to balance, prevent and fight urban challenge. – by Dr. Jiří Dvořák, BDMS (Musculoskeletal and Sports clinic)

What you can learn from this seminar:
LUMA :

In this talk, you are going to learn that while adopting a healthy life style would surely help you living better and longer, you also need to know well the following:
The two main emergencies for which your own awareness and knowledge of the two diseases, not the doctor or hospital, can make the difference between cure and disability (or death).
The reason why doing regular, personalized medical check-ups is also indispensable for your long-term well-being.
Finally, while everyone agrees that medical insurance is a must, you will find out what are the essentials benefits you should always be concerned

VITALLIFE : Integrative Sports Medicine: Prevention And Treatment For A Healthy Active Lifestyle

The practice of multidisciplinary integrative sports medicine
The importance of corrective exercises and objective evaluation and testing in order to prevent and treat acute and chronic musculoskeletal conditions and joint preservation
Staying in top form inside and out: the use of PRP in musculoskeletal injuries as well as aesthetics and wellness

BDMS :Musculoskeletal and Sports Clinic

Movement is your medicine
Muscle problems and solutions
Benefit of DAVID Gym Solution
This seminar is designed for:
Thai and foreigners managers / executives working in Thailand
Global leaders
People concerned about their health and need keys to improve their lifestyle

The seminar will be held in English
Bio of the Speakers:
Dr. Gerard Lalande, a French physician, is the managing director and founder of CEO-HEALTH. After 20 years' experience in the healthcare industry in Asia, he set up in 2008 in Bangkok, CEO-HEALTH, a medical outsourcing company offering high-end executive medical check-ups, a medical referral service for expatriates living in Thailand and neighboring countries as well as strategic consulting for healthcare corporations. He is also the Chief Medical Officer of LUMA HEALTH, a leading medical insurance headquartered in Bangkok.
In 2018, he published a 428-page medical guide, "Stay Healthy in the Asian Tropics" for the expatriates living or traveling in Southeast Asia.

VITALLIFE: Integrative Sports Medicine: Prevention And Treatment For A Healthy Active Lifestyle
Dr. Alisara Amy Arirachakara. M.D., B.Med.Sci. Hons Certificate in Anti-Aging Medicine and Hormonal Therapy, Police General Hospital 2012. Regular Community Service at Phayathai Orphanage, Pakkred Babies Home and Thai Crafts Village 2000 – 2004. Community Service doing Habitat for Humanity in Chiangmai, Thailand 2000. On committee as TOSSM International Secretary in Thai Orthopedic Society for Sports Medicine. Organizing committee for Royal College of Orthopaedic Surgeons of Thailand JOA-RCOST 2019.
Board of Certification:
- Thai board in Orthopedic Surgery
-Clinical Fellowship in Sports Medicine and Arthroscopy

BDMS - Musculoskeletal and Sports clinic :
Dr. Jiří Dvořák, Professor of Neurology, with a specialty in spinal disorders, has over four decades of expertise in the field of preventative care in musculoskeletal sports medicine, including 23 years as Chief Medical Officer at FIFA. Throughout his professional career he has followed a preventative path for spinal disorders, sports related injuries and symptoms. He is well-known for his many preventative programs including one that has reduced injuries in footballers by up to 50% and lower back pain by 30%.
He is widely published and cited in international, peer-reviewed medical and scientific journals and is also a senior editor of the British Journal of Sport Medicine (BJSM).
Speakers