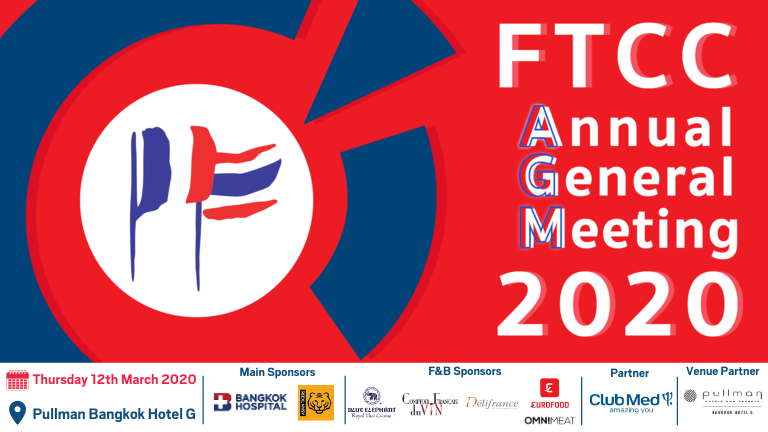 The Franco-Thai Chamber of Commerce invite you to join our Annual General Meeting. This event is the perfect occasion for you to learn more about our activities, get more insights on what we do, how to use the FTCC to help you grow your business and last but not least, it gives you the opportunity to truly contribute to the success of the Chamber by electing your Counsellors.
As a reminder, we must emphasize on the fact that only FTCC Members can participate in the Annual Ordinary General Meeting (only Ordinary Members (Category A and B can vote) one vote per company).
The AGM will then be followed by a Cocktail Party from 8 to 10 pm open to everyone and we would love to see all of you there.

Agenda:
1. Approval of the Minutes of the AGM dated March 13th, 2019
2. President's Report: FTCC 2019 Activities, FTCC Strategy and 2020 Actions
3. Approval of the FTCC Accounts for 2019
4. Approval of the Auditor for 2021
5. Approval of the Membership Fees Scheme for the Year 2021
6. Approval of New Honorary Member
7. Election of FTCC Counsellors for 2020
8. Announcement of the Newly Formed Board followed by Networking Cocktail.

More Information:
Email: nutjaree(@)francothaicc.com | Tel : 0 2650 9613 ext. 180