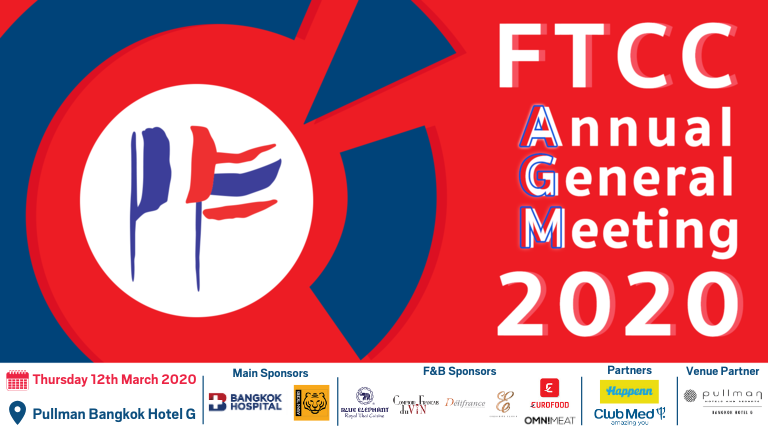 The Franco-Thai Chamber of Commerce invite you to join our Annual General Meeting. This event is the perfect occasion for you to learn more about our activities, get more insights on what we do, how to use the FTCC to help you grow your business and last but not least, it gives you the opportunity to truly contribute to the success of the Chamber by electing your Counsellors.
As a reminder, we must emphasize on the fact that only FTCC Members can participate in the Annual Ordinary General Meeting (only Ordinary Members (Category A and B can vote) one vote per company).
The AGM will then be followed by a Cocktail Party from 19h30 to 21h00 open to everyone and we would love to see all of you there.
Advice on the novel coronavirus (Covid -19)
Due to the public health concern regarding the novel coronavirus outbreak, we kindly ask you to refrain from participating in the event even if you do not have symptoms, if you arrived in Thailand after a visit to China (including Hong Kong and Macau), Germany, France, Iran, Italy, Japan, Singapore, South Korea, and Taiwan within 14 days prior to the event date.
If you cannot attend, it is important for you to be represented by proxy for the quorum to be reached: DOWNLOAD PROXY
According to the FTCC Constitution and By-Laws Art.15 and 16, if the required quorum for holding the meeting is not fulfilled, another meeting shall be held at 19.00 h. at the same venue and date.
Agenda:
1.Approval of the Minutes of the AGM dated March 13th, 2019
2.President's Report: FTCC 2019 Activities, FTCC Strategy and 2020 Actions
3.Approval of the FTCC Accounts for 2019
4.Approval of the Auditor for 2021
5.Approval of the Membership Fees Scheme for the Year 2021
6.Approval of New Honorary Member
7. Election of FTCC Counsellors for 2020 (Please see the list of candidates below)
8. Announcement of the Newly Formed Board followed by Networking Cocktail.
Candidates: (Click on the Names to see the CVs)
1. ACCOR: Aline Boulom
2. BELAWS: Vincent Birot
3. BOUYGUES-THAI: Patrice Bard
4. THE COMMERCIAL COMPANY OF SIAM: Thomas Sanchez
5. JUSLAWS: Julien Iwanicki-Govrich
6. LOXLEY: Kitima Kittikachorn
7. MAZARS: Wannawat Hemchayart
8. VOVAN Troca Sta Legal: Sansanee Joyjaroen Perandus

More Information:
Email: nutjaree(@)francothaicc.com | Tel : 0 2650 9613 ext. 180
Venue Information:
Annual General Meeting: From 18h00 to 19h30
Meeting Room: 36th floor, Gallery 1-2
The AGM is reserved for FTCC Members and Free of Charge

-----------------------------------
Networking Cocktail: From 19h30 pm to 21h00
Location: 38th Floor, Ballroom 38
Member: Free of charge for two persons per Member company
(500 THB for an extra person)
Non-Member: 900 THB
Walk-in Price for Non-Member: 1,000 THB