3 Session of 0.5 day for interactive workshop to bridge cultural gaps between Thais and Foreigners !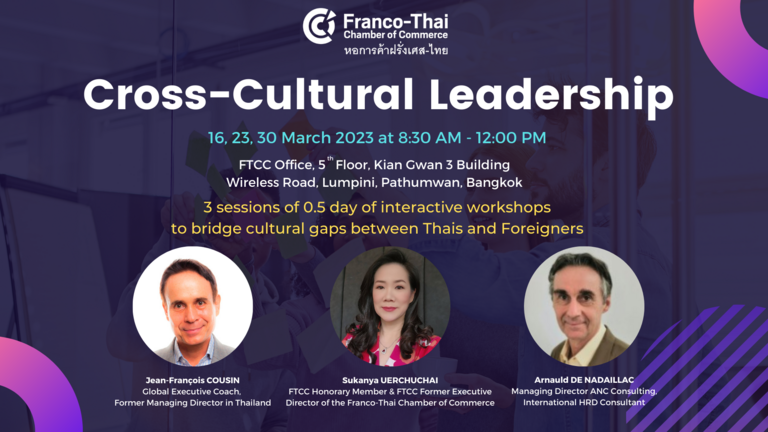 Cross-cultural issues are a significant factor affecting team dynamics in Thailand.
The workshop will be held in a highly-dynamic group-coaching approach by two French and one Thai expert trainers with more than 15 years working in Thailand and ASEAN.

The facilitators will help moving participants out of their comfort zone, challenging their perceptions and focusing on behavioral-shifts, thanks to three different yet complimentary cross-cultural visions. Participants will explore real case-studies and engage in role-plays.
At the end of the workshop, the participants will:
Acknowledge the impact of each culture on practical business situations
Develop specific competencies to enhance their business and managerial effectiveness in a cross-cultural environment
Develop their personal action plan to increase their global leadership skills
This workshop is designed for:
Thai and foreign professionals currently working in Thailand (since 3 months at least)
Global leaders
Multi-cultural team members and team leaders
The workshop will be held in English
Reference of the team:
Companies having attended the workshop: ACCOR, AIRBUS, DECATHLON, ESSILOR, GREEN YELLOW, JC DECAUX, THE MALL, L'OREAL, PANDORA, SAINT GOBAIN, SIAM CEMENT, TECHNIP.
About the Trainers: HERE
Testimonials
Christophe L. Accor: "I really appreciated getting input and insight from a Thai consultant"
Alexandre B. Saint Gobain Sekurit: "Explanations about behaviors and beliefs were useful, and even essential to prevent me from making management mistakes"
Serge A. Allianz: "This workshop provides great tools for people willing to build the bridge between French and Thai culture."
Contacts
FTCC Event Team
Email: events@francothaicc.com / tel: 02-650-9613 #130