Le marché de Noël! From 12 December to 15 December 2019!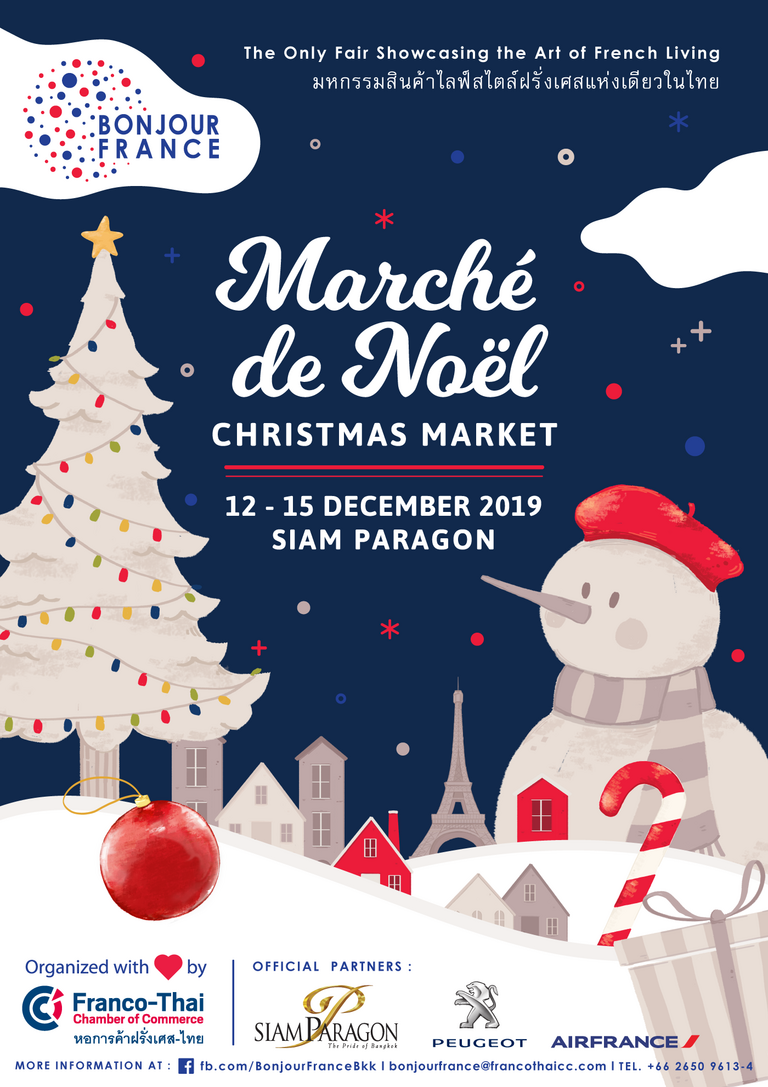 The wait is finally over!
SAVE-THE-DATE 12 - 15 December 2019. 4 days from Thursday to Sunday
Franco-Thai Chamber of Commerce in collaboration with Siam Paragon
proudly presents the one and only French fair of the year
'Bonjour France 2019'
Bonjour France is born from the desire to give the Thai general public a dynamic, contemporary and diverse image of France.
This event aims at showcasing French art of living and will include the display of French quality products from various sectors such as Fashion, Cosmetic, Decoration, Wine & Food.
Bonjour France will be the best opportunity in 2019 to highlight French products.
Dedicated Booth Area : Fashion Hall (1st Floor) and Lifestyle Hall (2nd Floor)
FORECASTS 2019
100 000+ Visitors
44 Exhibitors expected
4 day-sales
Early bird discount awaits, BOOK NOW!

Should you require further information, please contact Nutjaree (Fresh) Judpoon.
Email : Nutjaree@francothaicc.com
Tel : +66(0) 2650 9613 ext.180

--------------------------------------
FTCC Christmas Networking Cocktail
Come get your jingle on! Join us to celebrate the Bonjour France Opening Ceremony at the FTCC Christmas Networking Cocktail!
FREE FLOW DRINKS AND FOOD!
Theme : FTCC Christmas Networking Cocktail
Date : Thursday, 12 December 19
Time : 18h00 - 20h00
Venue: Parc Paragon, Siam Paragon

Entrance Fee: 500 Bath ( one drink & finger foods)
Bring your business spirit and raise our glasses to new opportunities
Reserve your seat now! RSVP: https://forms.gle/SxRtxYmumy5SZ5xB6

--------------------------------------
Christmas Music Show

The Franco-Thai Chamber of Commerce, in cooperation with Siam Paragon shopping mall, will organise Bonjour France under the theme Marché de Noël (Christmas Market). In order to bring the Christmas vibe and celebrate the upcoming Christmas day, we will hold the performance stage for those who want to show their music skill at Parc Paragon area (between Siam Paragon and Siam Center) on 13-15 December from 16:00 to 18:00. Come perform and let people see how much you are talented. Free registration! Please fill up the form here: https://forms.gle/J9hEHpt1jaGxGMp49
For more information, please contact khun Oh+ at wittaya(@)francothaicc.com or 02-650-9613 ext.130