HR and Strategy Committee
Mission & Objectives
HR and Strategy aims to inspire members to develop their business, expand their knowledge and receive information by providing insights on:
Trends and Evolution in HR topics
Sharing best practices to optimize working conditions and motivate employees
Sharing expertise on a wide range of industries on people-related topics such as leadership, coaching, talent acquisition, retention or workplace flexibility
Receiving updates on local and regional regulations
The Human Resources Committee is for people with an interest in human resources, HR professionals or involved with HR matters related regardless of industries/sectors.
Our Next Discussion
Committees are a platform for discussion for members from the related sectors or field of expertise.
Enrollment shall be submitted to the Committee members and compliant with the terms of references.
On 6 September 2022
Session: Interchamber
On 4 October 2022
Session: Presentation by Anu & Stefano
On 8 November 2022
Session: TBC
On 6 December 2022
Session: TBC
Please contact us if you are interested in joining this committee.
PAST EVENT | Atelier Emploi: Chercher le travail en Thailande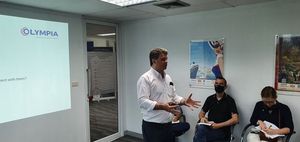 Vincent Pourre, Managing Director of Optima, shared tips & tricks for the Job Opportunity in Thailand workshop.
On 18 may 2022, FTCC have hosted the "Atelier Emploi, Chercher du travail en Thailande". We would like to thank every participant who has attended the workshop and Vincent Pourre for being our guest speaker.
We hope that the workshop can open some door to our participants.
For Members of the Committee, please log in to the member space, using your professional email.