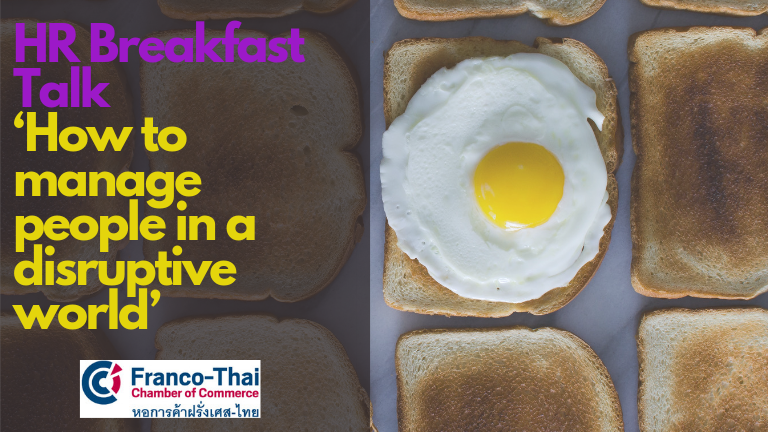 FTCC together with DALE CARNEGIE PROUDLY PRESENTS
HR Breakfast Talk on 'How to manage people in a disruptive world'
About our Speaker: Khun Monsinee CHAORATTANA,
Senior Trainer and Consultant (more info HERE)
With extensive experiences for over 30 years, our speaker is a certified senior trainer under the curriculum of Effective Communication and Human relations, Building Teamwork, Leadership, Sales Effectiveness, Presentation Effectiveness and Live Online Trainer under ISO standard.
Agenda Topics
"Nobody wants to be managed, so what we can help them sees themselves, be able to manage and control themselves, aware of others differences and find the way to work together"

To cope with uncertainty and uncontrollable, there might be many tools ranging from system, process, procedure and management tools. However, we understand truly that the most challenging thing to "Change" people.
Think about ourselves, we can provide a good reason why we change from our recent job, or why we choose to stay in comfort zone and do not take risk .. but we hardly find a reason why other people don't change in the way we want them to be.
"The Way We Want Them to Be" is the same as the Disruptive world that waiting in front of us and expect us to adapt to them.
Start with their vision can work well rather than pressure them to do something. By aligning their goals to the organization, it will help them strive through this difficulty by themselves.
Self-awareness, is becoming crucial to move forward in a disruptive way, once they aware, learn, accept, they have the ability to adapt and change as to meet their goals.
Nobody wants to be managed, so what we can help them sees themselves, be able to manage and control themselves, aware of others differences and find the way to work together
Vision Alignment
We Work best as Who We Are
Breakthrough Plan
By end of the brief session, you will be equipped with Self-Awareness tools, how to manage and control yourself and help others in a disruptive world
Agenda
7.30 – 8.00 AM – Registration
8.00 – 9.00 AM – Session starts
9.00 – 10.00 AM –Q&A
-----------------------------------------
Should you require further information, please do not hesitate to reach me at nutjaree(@)francothaicc.com or 02-650-9613 #180