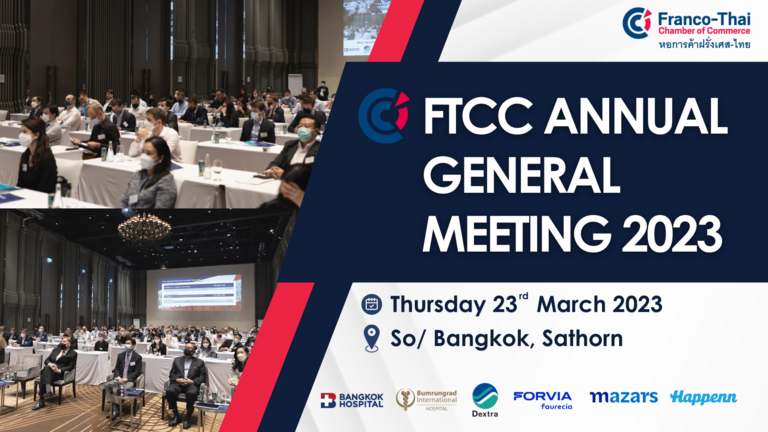 Thursday 23rd March 2023
We would like to personally invite you to join our Annual General Meeting (AGM). This event is the perfect occasion for you to learn more about our activities, get more insights on what we do, how to use the FTCC to help you grow your business and last but not least, it gives you the opportunity to truly contribute to the success of the Chamber by electing your Counsellors.
The FTCC AGM will be presided over by His Excellency Thierry MATHOU, French Ambassador to Thailand who will honor us with an opening address at 18h30.
As a reminder, we must emphasize on the fact that only FTCC Members can participate in the Annual Ordinary General Meeting (only Ordinary Members (Category A and B can vote) one vote per company). If you cannot attend, it is important for you to be represented by PROXY for the quorum to be reached.

Download the proxy

FTCC AGM AGENDA
1. Approval of the Minutes of the AGM dated March 23rd, 2022
2. President's Report: FTCC 2022 Activities, FTCC Strategy and 2023 Actions
3. Approval of the FTCC Accounts for 2022
4. Approval of the Auditor for 2023
5. Election of FTCC Counsellors for 2023
6. Announcement of the Newly Formed Board
---
The AGM will then be followed by a Cocktail Session from 19:30 PM onwards open to everyone and we would love to see all of you there.
Register for networking session

---
Board Candidates List 2023
1. Clement de Foucauld, Thales
2. Florian Blin, Artelia Cornerstone
3. Gabriel Lubeight Hanchana, CIC
4. Herve Lemoine, Dextra
5. Martin Dilly, Bureau Veritas
6. Maximilien Lerat, WEEXA
7. Nicolas Bery, Flylab
8. Nirut Kunnwat, Novegion
9. Patrice Pischedda, ACOEM
10. Paul Roussel, FiddAsia Advisory Co., Ltd
11. Philippe Claire, Ventury Co., Ltd.
Schedule
Thursday 23 March 2023
18:00 - 18:30
Members Registration
18:30 - 18:40
Opening Address by French Ambassador to Thailand
18:40 - 19:30
Annual Ordinary General Meeting
AGENDA
1. Approval of the Minutes of the AGM dated March 23rd, 2022
2. President's Report: FTCC 2022 Activities, FTCC Strategy and 2023 Actions
3. Approval of the FTCC Accounts for 2022
4. Approval of the Auditor for 2023
5. Election of FTCC Counsellors for 2023
6. Announcement of the Newly Formed Board
19:30 - 21:00
Networking Cocktail and Announcement of the newly formed Board and Executive Committee