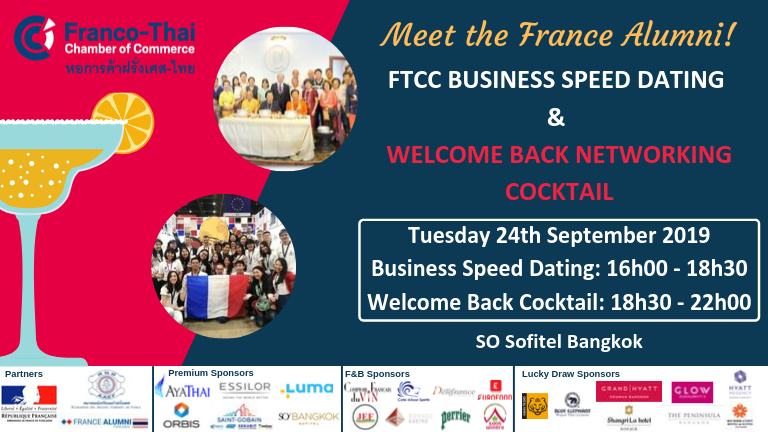 FTCC- France Alumni - AAEF
Business Speed dating + Welcome Back Networking Cocktail
Tuesday, 24th September, 2019
Venue: SO Sofitel Bangkok
The Business Speed Dating is FULLY BOOKED!
REGISTER TO BE SURE TO GET IN!
(Walk-ins are not guaranteed)
The FTCC, France Alumni, French Embassy and AAEF (Association of Old France Students / Association des anciens étudiants thaïlandais en France) are proud to present you a special business networking event after summer holidays preceded by the FTCC's original Business Speed Dating which allows you to meet new partners and find new business leads.
------------------------------------------------
About our Business Speed Dating

This one-of-a-kind event is designed to help local businesses find their perfect match. It is a great opportunity for you to meet with various representatives from Thailand's leading companies as well as newcomers, and to gain an incredible exposure, in a short amount of time.
Participants will have 7 minutes per a one-on-one meeting (or 3.5 minutes each) to greet each other and let others know who they are and what they are looking their need.
An average of 10-12 meetings are usually reached, thus 12 opportunities to make a connection, a business lead or partners. Exceptionally this time, you will meet up to 20-25 people.

The Business Matching will then be followed by our big networking cocktail of the year the "Welcome Back Networking Cocktail" which we expect up to 200 people this year.

------------------------------------------------

About our Welcome Back Networking Cocktail

Starting from 18h30 to 22h00, it will be the perfect occasion to meet, catch up and mingle with people from French-Thai Business community while enjoying French great food &drinks. This year, France Alumni and AAEF Members: French-speaking Thais who studied in France will also join us thanks to a great collaboration with the French Embassy. It is indeed a great opportunity to expand your network, especially with Thais Francophones & Francophiles. You cannot afford to miss this one!
Price:
Business matching + Welcome Back Networking Cocktail
- FTCC Members & France Alumni 1,000 THB/ Non-member 1,900 THB
Welcome Back Networking Cocktail Only
- Free for France Alumni
- Free for FTCC Members (2 persons per company only). Additional participant will be charged at 900 THB net each.
- Non-member 1,500 THB

**Registered to France Alumni platform: https://www.francealumni.fr/fr/agenda/ftcc-france-alumni-aaef-business-speed-dating-welcome-back-cocktail-4554?langue=fr
Informations about France Alumni:

- Facebook France Alumni Thaïlande (thai, english and french) : https://www.facebook.com/pg/Francealumnithailand/posts/?ref=page_internal
- France Alumni Thaïlande Website (english and french) : https://www.francealumni.fr/en/position/thailand/
- Alumni videos :
Video 1: https://www.facebook.com/CampusFranceThailand/videos/2320183588026348/
Video 2: https://www.youtube.com/watch?v=fV7FqCs0GFo

- 10 good reasons to join the France Alumni Network: https://www.campusfrance.org/en/managing-the-france-alumni-network
- 5 bonnes raisons d'adhérer: https://www.francealumni.fr/fr/page/468/5-bonnes-raisons-de-rejoindre-france-alumni