Why Thailand ?

Thailand is connected
Distinguished by its abundant resources and prime geographical location, Thailand has always stood at the heart of ASEAN. Thailand has become a dynamic gateway to Asia – the world's fastest-growing economic region.
Free Trade Agreements: Businesses in Thailand can reap the rewards of free-trade agreements with 17 different nations: India, Japan, New Zealand, Australia, Chile and Peru, as well as the other 10 ASEAN states, open up a range of opportunities across Asia-Pacific.
A Key Link to the Global Supply Chain: Thailand has historically been a vital supply chain provider and trade partner for much of the globe, including North America, Europe, China and Japan.
Investing in infrastructure: Major investments in infrastructure will reduce logistics and transportation costs, solidifying Thailand's reputation as one of Asia's leading investment destinations.

70 well equipped industrial estates
Inter-city connectivity
port upgrades
improved airport capacity
mass transit upgrades in Bangkok
Thailand is competitive
With a labour force of over 38 million, strong governmental support and ASEAN's second-largest economy, Thailand remains an attractive destination for savvy investors.
A promising host economy: Thailand has demonstrated remarkable economic progress, recording a 21 percent growth in foreign direct investment inflows, a remarkable accomplishment when compared to the global average of 0.7 percent over the same period.
Continued growth in exports: Thanks to an increase in exports and a booming tourism industry that attracts over 30 million visitors per year, Thailand hit a record current-account surplus of USD 48.2 billion in 2017.
Lower costs, better lifestyle: Thailand offers foreign investors a number of noteworthy incentives, from a 20 percent corporate income tax to the most affordable prime quality office space in Asia-Pacific.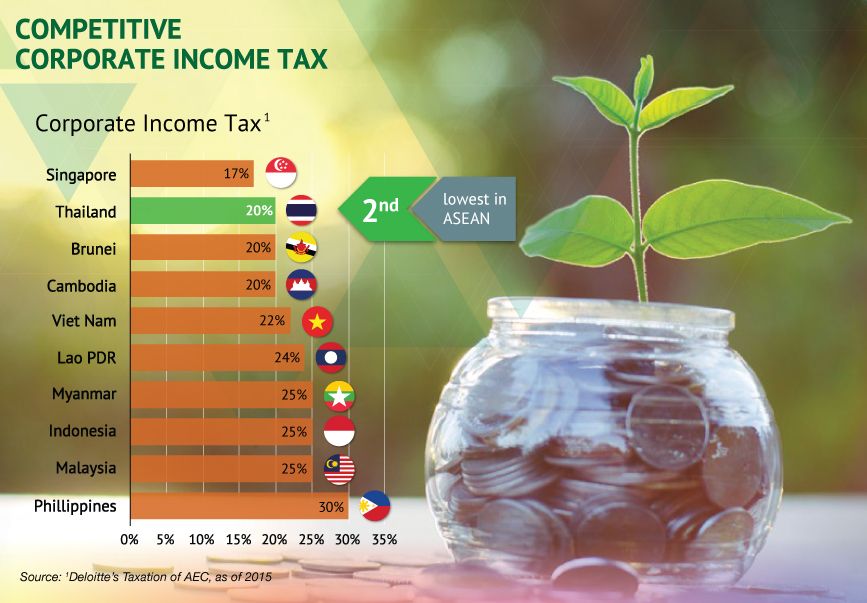 Thailand is up-and-coming
Thailand climbed to number 26 on the World Bank's most recent Doing Business database, which measures business regulations and ranks 190 economies on their ease of doing business.
Starting a business: Thailand abolished a rule that required a company to obtain a corporate seal before it could form, and eliminated the need for the Labor Department to approve company work regulations. Now it takes only four and a half days to start a business – down from 27 and a half days.
Thailand's Eastern Economic Corridor can offer new and attractive opportunities for your business