ActualitésConference & SeminarForums
JEC Forum Bangkok | July 3-5, 2019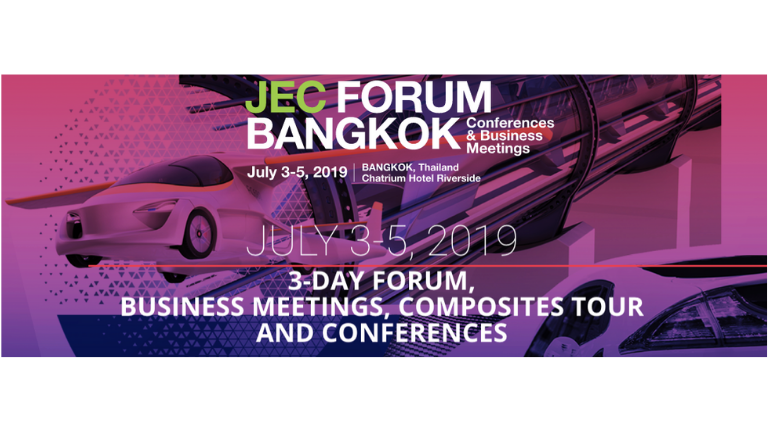 JEC FORUM BANGKOK
July 3-5, 2019

3-DAY FORUM, BUSINESS MEETINGS, COMPOSITES TOUR AND CONFERENCES
JEC Group presents its new format combining business meetings, conference sessions and composites tours.
This unique forum will include:
Pre-arranged business meetings to meet with industry buyers from the entire composites value-chain. The service will allow you to optimize your time with a schedule of pre-arranged meetings.

Conference sessions dedicated to the future of mobility. High-level conference sessions with presentations from renowned speakers from all over the world. The conference program is tailored for professionals willing to increase their knowledge on the potential of the composites materials.

Composites tour: a unique opportunity to visit a composites site and have a real time experience in a factory or a research center.
WHY PARTICIPATE
Exchange and learn about the future of mobility and network with more than 200 members of the Asian composites community

2018 KEY FIGURES
Visitors from 21 Countries

+200 participants

97 companies represented
Countries: Thailand, Vietnam, Malaysia, Singapore, Philippines, South Korea, Japan, China, Taiwan, India, Qatar, UAE, Australia, New Zealand, UK, France, Spain, Poland, Switzerland, USA, Brazil
Agenda:
DAY ONE
9h00 – 12h00 Evolution and Adaptation of Existing Cars
13h30 – 17h00 Adopting Composites Materials in New Mobility
18h30 – 22h00 Dining Experience
DAY TWO
9h00 – 12h00 Alternative Mobility
13h30 – 17h00 Mass Transportation & Infrastructure
COMPOSITES TOUR
7h30 Departure from Chatrium Hotel Riverside Bangkok
10h00 – 12h00 Visit of GISTDA's
12h00 – 13h00 Lunch at GISTDA's
13h00 Departure to Cobra International
14h30 – 16h00 Visit of Cobra International
5h30 Arrival at Chatrium Hotel Riverside Bangkok
Entrance fees:
Two-day conference

Early Bird Rate (Until June 2, 2019) - $300

Late Bird Rate (June 3 – July 2, 2019) - $350

Onsite Rate - $400

One-day composites tour - $ 50
Registration Link
https://registration.jec-bangkok.events/registration/5cb5ffacab3e940020e466c1

For more information, please visit https://www.jec-bangkok.events