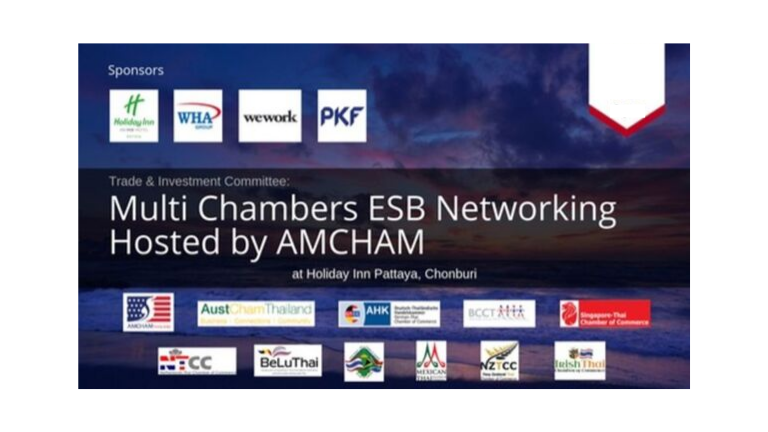 Event Description:
Looking for a great place to do business networking on the Eastern Seaboard in a social environment? Then join us for a Joint Chambers Eastern Seaboard Networking at East Coast Kitchen, Executive Tower, Holiday Inn Pattaya hosted by the American Chamber of Commerce in Thailand (AMCHAM) and held in conjunction with the British, Australian, German, Mexican, Canadian, South African, Dutch and Belgian-Luxembourg chambers of commerce in Thailand.

Bring your cards and join colleagues from other chambers for great networking at Havana Bar, Holiday Inn Pattaya. Enjoy the perfect night is a combination of great company and exciting entertainment. Havana Bar is the only entertainment & events bar in North Pattaya. Their friendly team members are ready to provide you with great service, mouth-watering bar snack selections and expansive drinks menu, making it the perfect venue.

Thank you to our sponsors:

Holiday Inn Pattaya is located in the heart of one of Thailand's prominent beach destinations. It's the perfect choice for corporate travelers and business groups looking to combine work with leisure.
Our meeting space, called 'The Workshop' is an innovative, creative and flexible space where you can host a variety of activities such as team building, plenary sessions or product launches. The Workshop also includes Pattaya's first auditorium facility within a hotel, three meeting rooms enhanced by natural daylight, latest audio-visual technology and a spacious outdoor terrace, all designed around a central networking space in the style of a retro garage. VIP delegates can also enjoy the 25th floor Executive Club, where breakfast is served for 6am and drinks and canapés are served each evening accompanies by spectacular views over Pattaya's coastline.

For a beach side dining experience, Terrazzo Restaurant and Bar is located at the front of the hotel on beach road serving pizza, pasta, burgers, salad and signature Thai dishes along with an extensive wine, beer and cocktail menu. For a more upbeat venue try Havana Bar featuring a live entertainment every Friday and Saturday nights.

WHA Industrial Development Plc (Formerly known as Hemaraj Land And Development Plc.), a subsidiary of WHA Corporation PCL., is Thailand's leading developer of Industrial Estates, Utilities, Power, and Property Solutions. Multinational companies have selected WHA's industrial estates as the strategic location for their investments in Thailand. WHA ID offer developed Industrial land, Utilities, Ready Built factories for rent, quality industrial services, and an integrated logistics and supply chain.

WHA ID develops and operates 9+ industrial estates, mostly located in the Eastern Economic Corridor [EEC], covering 46,434 rai (7,429 hectare) and 875,000 square meters of Ready Built Factories with Built to Suit requirement and Logistics Parks. WHA's industrial estates has been promoted to Industrial Promotion Zone under EEC program such as Aerospace & Logistics, Next Generation Automotive, Robotics & Automotive Industry, and etc. Our 719 distinct customers include 243 automotive customers with 1,088 Land or factory contracts have invested more than USD 30.5 billion.

WeWork is a global network of workspaces where companies and people grow together. We transform buildings into dynamic environments for creativity, focus, and connection. More than just the best place to work, though, this is a movement toward humanizing work. We believe that CEOs can help each other, offices can use the comforts of home, and we can all look forward to Monday if we find real meaning in what we do.

PKF Thailand is a professional services firm headquartered at our state-of-the-art offices in the heart of the financial district of Bangkok and is a member of PKF International's global family of legally independent firms. PKF's family consists of over 400 offices, operating in 150 countries across five regions. We specialise in providing high quality audit, accounting, tax, and business advisory solutions to international and domestic organisations in all markets.

Their unique combination of traditional, hybrid, and unique service offerings allows us to deliver exceptional support, insight and value at every stage of your business's development cycle. Their highly experienced team of partners and professionals are bound together by a shared commitment to quality, integrity and the creation of clarity in a complex regulatory environment.

Accomodation
Holiday Inn Pattaya is offering a special room rate for chambers' members and guests:
Deluxe THB 4,000 net per room per night - inclusive of breakfast.
Ocean THB 4,300 net per room per night - inclusive of breakfast.
Superior THB 4,600 net per room per night - inclusive of breakfast.

For reservation please contact khun Unchulee Thammachat, Assistant Director of Sales - MICE, email address is [email protected]

Booking deadline: October 18, 12 noon.