FOR A PEEK INTO WHAT THE YEAR AHEAD HAS TO OFFER, BOTH FROM A GLOBAL ECONOMIC AND THAILAND SPECIFIC PERSPECTIVE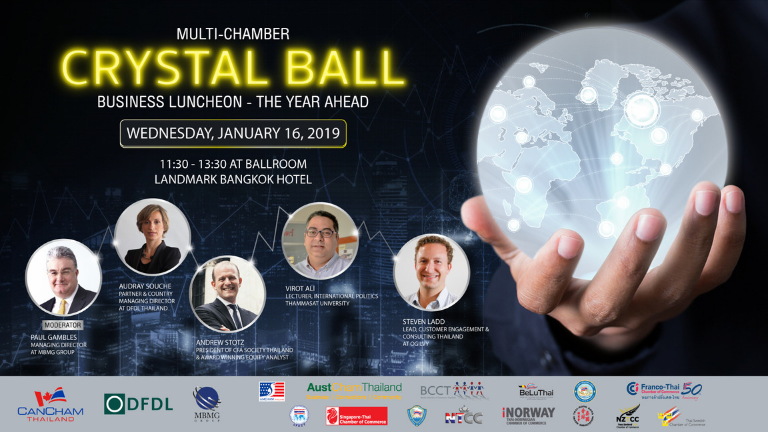 INTRODUCTION
CanCham Thailand in collaboration with the American, Australian, British, Belgium-Luxembourg, Thai, French, JFCCT, Singaporean, Board of Trade of Thailand, The Netherlands, Norwegian, Hong Kong, Swedish and New Zealand-Thai Chamber of Commerce proudly presents "MULTI-CHAMBER CRYSTAL BALL ECONOMIC OUTLOOK AND BUSINESS LUNCHEON – THE YEAR AHEAD" on January 16, 2019 at Landmark Bangkok Hotel.
This CanCham flagship event promises to be a lively, interactive discussion during which business leaders will provide their perspective and outlook on the economic, financial, political, digital transformation landscape, work/labour landscape for the year ahead. The key trends in various sectors of industry will be highlighted.
The event will provide ample opportunity for participants to share insights and ideas amongst peers in the business sector. The panel discussion will be followed by Q&A.
DISCUSSION
We will be discussing the major trends and forecasts for 2019 in the following areas:
Global Economic – Macro Trends in China, EU, US, Japan etc.
Digital transformation and Customer Experience
Thai economy and financial markets
Thai political landscape and expected political outcome after election
PANELISTS
SPONSORSHIP OPPORTUNITIES
Boost your brand's exposure by aligning with CanCham's premier Crystal Ball event. You will receive a wide range of promotional activities & visibility pre, during and post event. CLICK HERE to view sponsorship package.
PROGRAM
11:30 Registration & Networking
12:00 Lunch serves
12:20 Opening Remark and Introduction to moderator
Panel Discussion begins – Paul Gambles
1. Andrew Stotz
2. Steven Ladd
3. Audray Souche
4. Virot Ali
13:20 Questions & Answers
13:30 Forum concluded
--------------------------------------------------
CANCELLATION POLICY
Reservations not cancelled within 3 business days of the event will be considered as a no-show and invoiced. If the event falls on a Monday or is immediately preceded by a holiday, cancellation is required by the previous business day.