FTCC OTA #3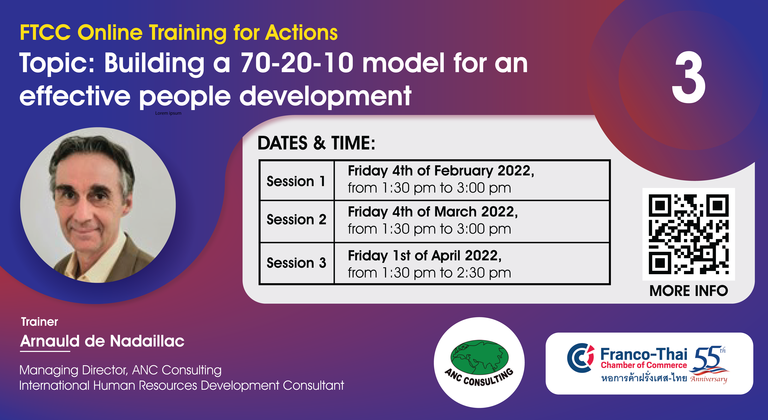 Introduction:
People have now access to many kinds of training courses (online or face to face) but very often they do not apply the learning gained. HR department cannot help much after the training intervention, it all depends on the persons trained and their managers. The 70-20-10 is a recognized model for effective learning and development mixing project implementation (70%), receiving feedback (20%) and learning formal knowledge (10%) How to help the managers and supervisors to implement the 70-20-10 model in order to make learning really changing behaviours at work?
Language:
English and Thai (if all participants are Thai)
Target Group:
Any Supervisor, Manager, Director with direct reports.
Learning Outcomes:
Understand the 70-20-10 individual development plan
Review the possible tools for each of the three components
Prepare the realization of individual development plans for competencies, skills or knowledge of the participants or their subordinates
Main Content:
Four hours in three sessions split within one month (1h30, 1h30, 1h)
Introduction
The model 70-20-10
The process to build an individual development plan
The possible methods and tools for the implementation of projects (70%), getting feedback (20%) and formal learning (10%)
Examples for soft and technical skills
Planning and follow up of competency development of the participant or their subordinates
Specificities, Strengths:
Practice on the cases brought by participants
All participants will have a 70-20-10 guideline with examples for soft and technical skills
Cost:
For members: 8,000 THB per person
For non-members: 10,000 THB per person
*Vat 7% excluded
Schedule
Friday 4 February 2022

| | |
| --- | --- |
| 13:30 - 15:00 | Session 1 |
Friday 4 March 2022

| | |
| --- | --- |
| 13:30 - 15:00 | Session 2 |
Friday 1 April 2022

| | |
| --- | --- |
| 13:30 - 15:00 | Session 3 |